Have you ever wanted to play Ragnarok Online, but didn't want to deal with the grind of a high-rate server?
Look no further than LAKAS Ragnarok Online! Our classic mid-rate server offers a unique blend of the classic Ragnarok Online experience with modern convenience. With our Renewal RO system, you'll get the best of both worlds - grinding and exciting boss battles.
Lakas Ragnarok Online has been active since April 2020, initially starting as a Third-Job Ragnarok Online private servers (Gryphon Server) and later expanding to introduce a new and additional Fourth-Job server (Phoenix Server), making it the first of its kind in the Philippines.
One of our distinguishing features is our close-to-official server setup, which ensures a high-quality gaming experience. We have an active game management team that organizes events, performs regular maintenance, and provides updates to keep the server fresh and engaging.
FEATURES:
🤩 Classic Mid-Rate Server: Enjoy the classic Ragnarok Online experience with a mid-rate server that gives you the best of both worlds - grinding and exciting boss battles.
🤩 Renewal RO System: Our Renewal RO system gives you the most up-to-date features and content from the latest version of Ragnarok Online.
🤩 Balanced Gameplay: Our server has been carefully balanced to ensure that everyone has a fair and enjoyable experience.
Event War Crates are incoming!
Guild Package Distribution Date: Mark your calendars for June 14, 2023, at 9:00 PM. Call time is at 8:45 PM.
Note: All guilds wishing to claim the guild package must be present during the designated call time. We will not entertain dual or troll accounts. The Guild Package for the War of Renaissance is designed to greatly enhance your chances of success in the Season 2 Tournament.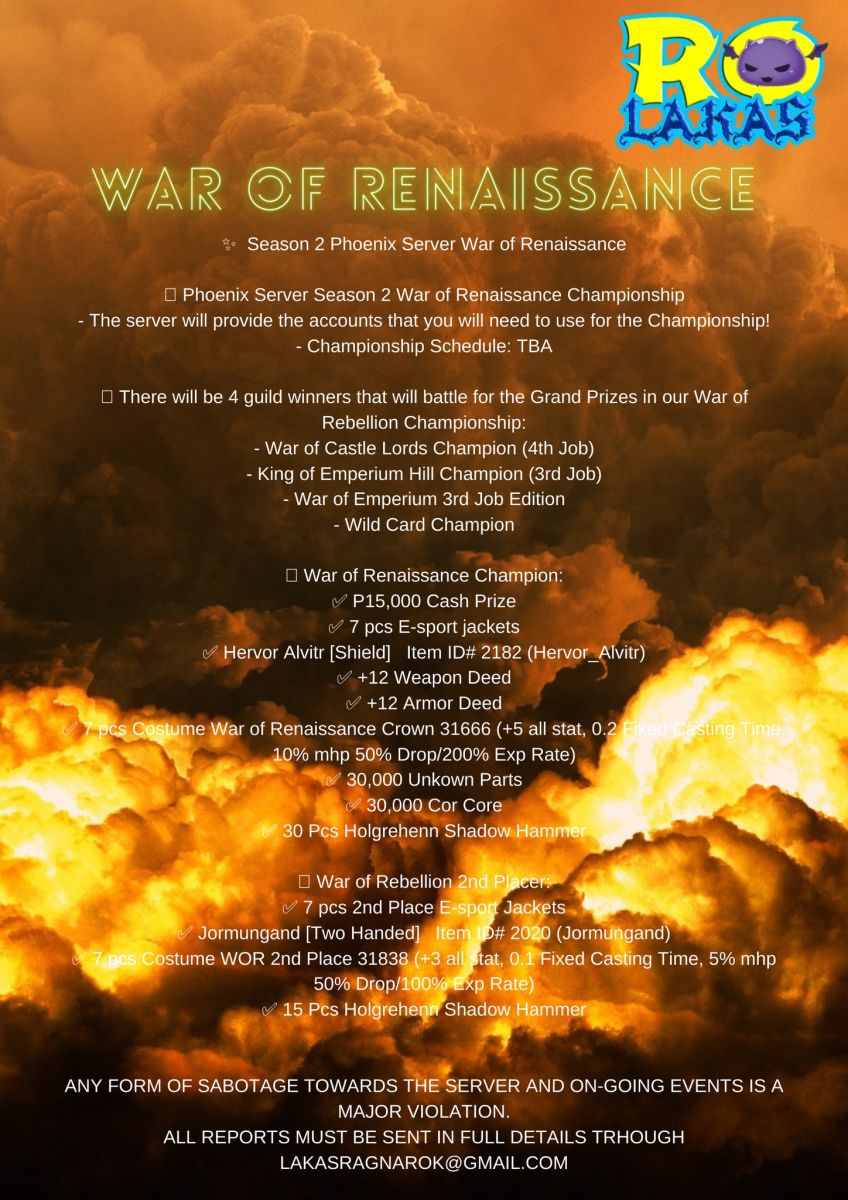 🎯 Spread the word and rally your forces before the war commences!
Lakas Ragnarok Online - PLAY TO WIN!
Check our PLAY TO WIN scheme as this may help everyone build their strong in-game character.
This comprehensive guide is a must-read for all newbies to the 4th job class.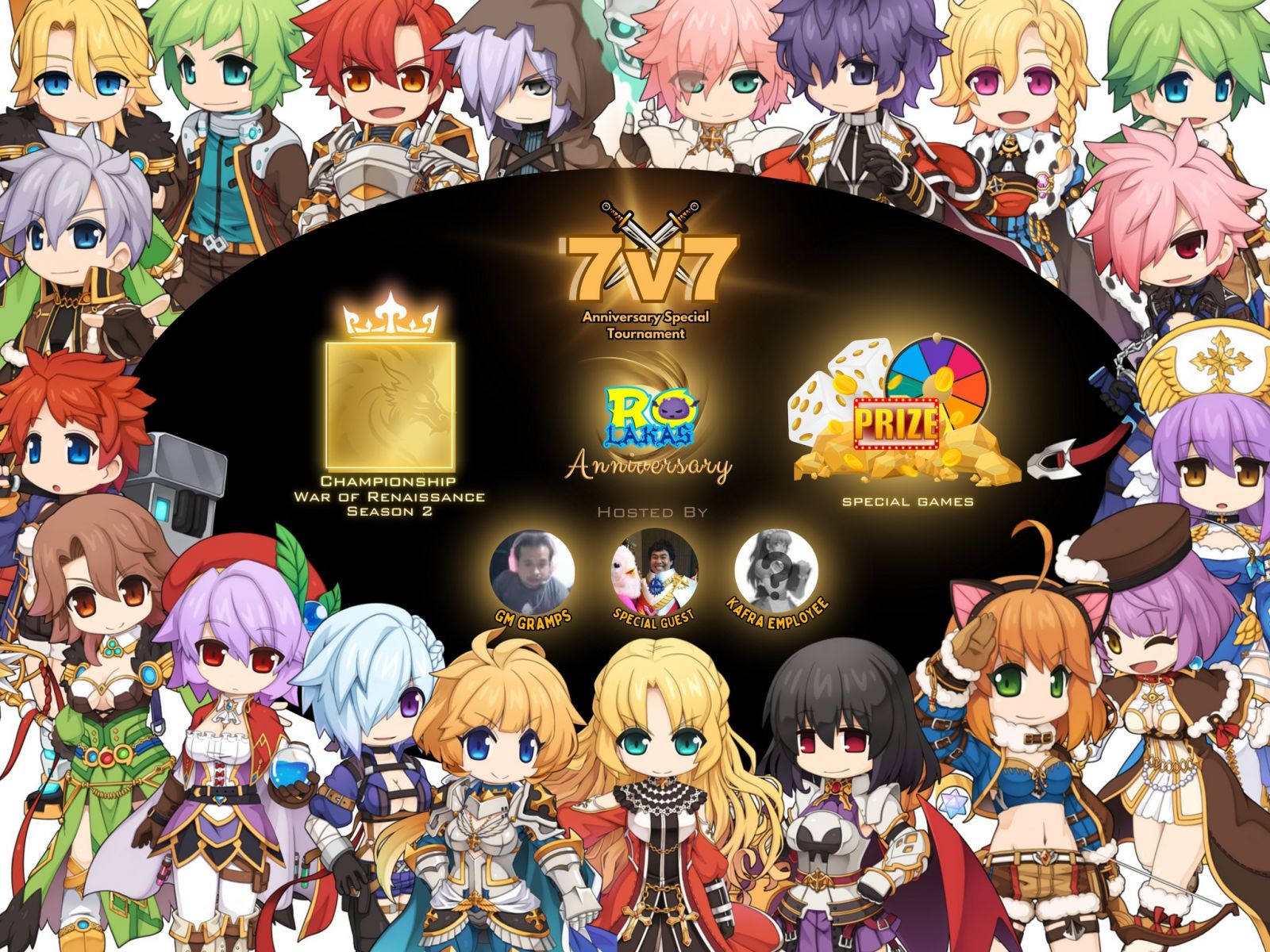 Server Information
Episode 17.1 Illusion
4th Job Classes
Max Level 175/50
x150 Base/Job Exp
x11 Drop Rate
MVP Drop: 1x
MVP Card: 1x
Instant Job Changer
Freebies NPC
Unlimited reset stats & skills
No Safe Refine for equipment
Progressive Update
GAMEPLAY
Grind, Farm, and Quest Server
4th Job Classes available
Maximum Base Level: 175
Maximum Job Level: 60
Maximum Stats: 130
Maximum Attack Speed: 190
Maximum Character Slots per account: 5
Revo: Classic Experience
Freebies NPC available
Unlimited reset of stats
Hourly Point System
No Safe Refine for equipment
Long-term updates planned
GAME AND HOST
Multi-client enabled
Gameguard protected
DDoS mitigation in place
If you're searching for a long-lasting and immersive playing experience, we guarantee that Lakas Ragnarok will be here for you until the very end. Join us now and embark on an unforgettable journey!