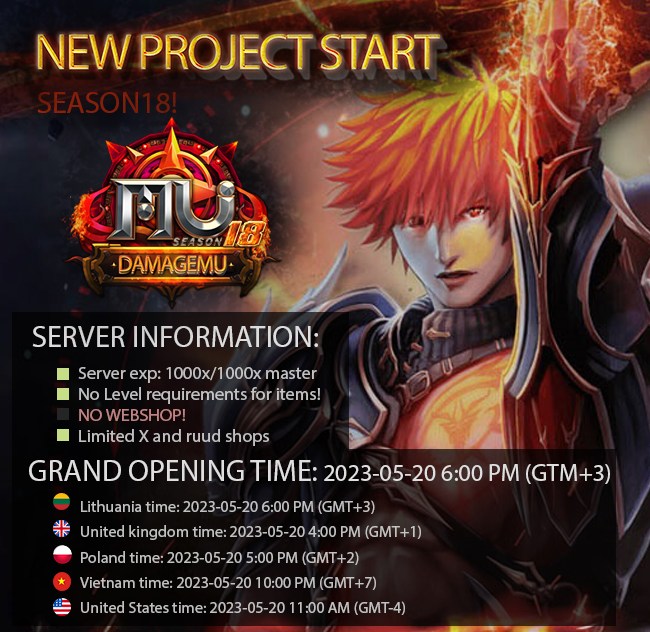 Join Damage Mu, where you can earn free credits and dive into thrilling adventures.
1.Participate in our Facebook event: Simply like and share the event post to receive 1000 credits effortlessly.
2.Refer your friends: Share your unique referral link with your friends. When they reach 10 resets, you'll receive 500 credits, and when they reach 50 resets, you'll earn a whopping 1000 credits!
3.Engage in daily automatic events and Gamemaster events to earn additional credits.
Let's explore the features of our X1000 server with Premium Mu Season 18:
No Webshop: Enjoy a fair gameplay experience without any advantages gained through purchases.
Limited X and Ruud Shops: The economy remains balanced, ensuring a competitive environment.
Experience the following gameplay aspects:
Regular Experience: Gain 1000x experience with dynamic rates to progress quickly.
Master Experience: Advance your mastery with the same 1000x rate.
Maximum Level: Reach level 400 and unlock the path to Mastery Level 650 after level 400.
Low Performance Mode: Toggle with the F9 button to optimize your gaming experience.

Immerse yourself in the world of Damage Mu:
Non-PvP Maps: Explore Aida 1, Aida 2, Karutan 1, and Karutan 2 without the worry of player-versus-player combat.
Spot Locations: Utilize the Minimap (TAB) to discover strategic spots and efficiently navigate the game world.
Balanced Monsters and Bosses: Experience challenging encounters with adjusted monster and boss power.
Adjusted PvP/PvM: Enjoy balanced gameplay across all classes for engaging player versus environment and player versus player encounters.
Elf Soldier Limitations: The Elf Soldier's maximum level is 400, with a limit of 3 resets.
Experience the progressive leveling and resetting system:
Experience System:
Resets 1-20: Experience rate of x1000
Resets 21-40: Experience rate of x900
Resets 41-60: Experience rate of x850
Resets 61-100+: Experience rate of x800
Reset System:
Reset your character in-game with level 400 using the command "/reset."
Each reset costs 1 million Zen.
Upon resetting, your stats will be cleared, and you'll receive 500 points per reset.
Grand Reset System:
Achieve 100 resets and level 400 to perform a grand reset using the command "/greset."
There is no stat reset after a grand reset; your stats will be kept.
Reset and Grand Reset Limits:
Reset Limit: You can reset up to 1000 times.
Grand Reset Limit: You can perform a grand reset up to 30 times.
Join Damage Mu today and embark on an epic journey filled with excitement, rewards, and fierce battles. Unleash your power, conquer challenges, and become a legend in the world of Mu Online private servers!