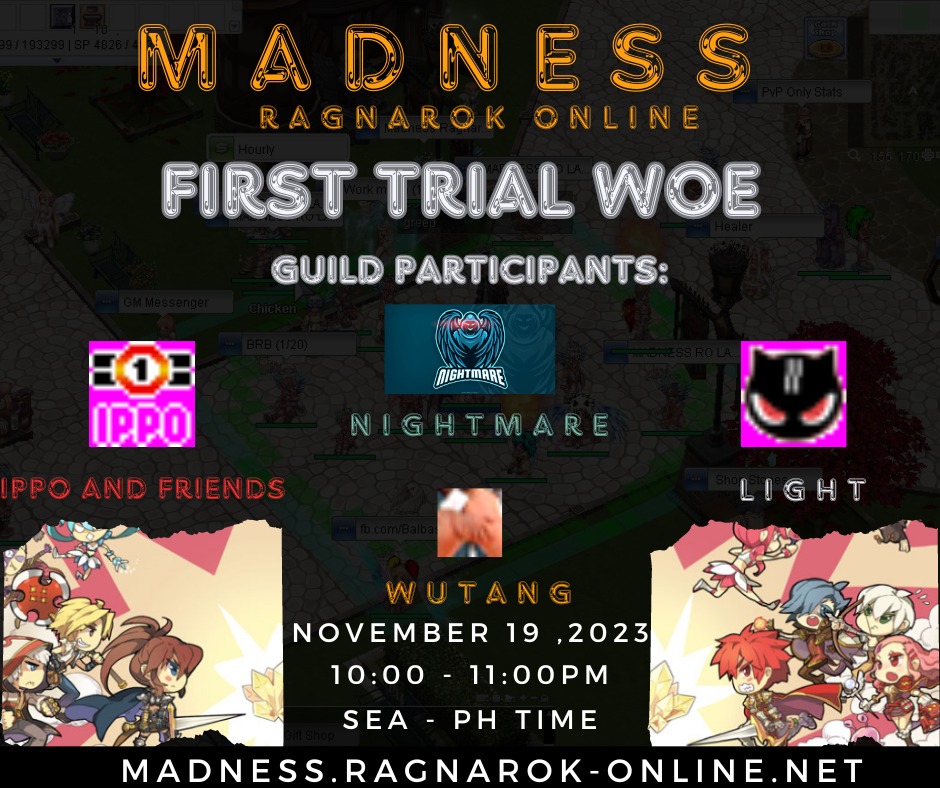 For all Ragnarok Online enthusiasts! Let's go to embark on an epic journey through the realm of Midgard with Madness Ragnarok Online, the private server that promises an unparalleled gaming experience. Join a vibrant community of fellow adventurers and furthermore, immerse yourself in captivating storylines, and engage in exhilarating battles that will push your skills to the limit.
First Trial WoE:
Experience the thrill of our inaugural WoE event. And of course victory is rewarded with an array of prizes, including 150 Bloody Branches, DRATE SUIT, Kiel Suit, Random CDROP BOX, 100 Credits, Guild Winner Box, and Consolation Box for the guild that emerges victorious. Furthermore, all guilds that don't clinch the top spot receive consolation prizes!
Balanced Economy:
Our meticulously crafted economy ensures fairness and enjoyment for all players. Consequently, say goodbye to overpowered imbalances and hello to an environment where every adventurer has a chance to thrive.
Active Community:
Join our thriving community of passionate Ragnarok Online players. Let's Forge lasting friendships, strategize with allies, and revel in the camaraderie that sets Madness Ragnarok Online apart.
Regular Updates:
We're committed to keeping things fresh! Furthermore, updates that introduce new content and features, ensuring there's always something exciting on the horizon.